News
Memo Bank is a new independent bank for SMEs. You're reading our latest news.
Written by Brice Boulesteix
On
Collect more payments faster using our new direct debit feature
Up to now, if you wanted to collect money from your customer's bank account, you had two options:
Use the direct debit solution provided by your bank. It works, but it isn't easy to use nor automation-friendly.
Opt for a fintech. It definitely looks better and performs well, but it tends to be pricey. And you'll probably be charged on a transaction per transaction basis.
We wanted to provide business managers with an alternative solution that was both affordable and easy to use. So we created our own direct debit payment feature. Starting today, you can use your Memo Bank account to create or import your client's SEPA mandate (core or B2B). And you can also create or import your direct debit operations, to collect payment from your customer's bank account.
In short, you can now use your Memo Bank account to credit your Memo Bank account. This is a first step towards the creation of a payment collection suite that will allow your company to use Memo Bank for both expense management and payment collection. You'll never have to log into another website to manage your credits and your debits.
A reliable payment collection method
Direct debit payments account for almost 20% of the payments made in France (on an annual basis), making direct debits the second most popular payment method in the country—the most popular one being payment cards. If you've ever tried both direct debit and card purchases, you've probably already noticed that card payments were much more sensitive than direct debit ones—card payments can fail for lots of technical reasons.
Sure, payment cards tend to be accepted everywhere, but they can fail as soon as a little detail goes wrong. An expired card or a wrong authentication code is all that's required to ruin your client's payment. Direct debit payments are reliable. Why? Because there's no card network involved. Direct debit payments rely on bank-to-bank transactions. If you collected your client's SEPA mandate, and if the bank account you're about to pull money from is not in negative territory, then your direct debit payment is very likely to go through.
Get paid without paying too much
Unlike incumbent banks, we're not fans of variable fees. We try to make our pricing as clear and predictable as possible. With our new payment collection feature, we're sticking to our "make banking fares boring again" line.
The cost of our payment collection feature only varies depending of the monthly plan you chose:
50€/month (vat not included) for the subscribers of our basic plan

75€/month (vat not included) for the subscribers of our plus plan

100€/month (vat not included) for the subscribers of our unlimited plan.
We're talking about a fixed cost here. This is the price you pay to unlock our direct debit payment feature. Each direct debit pull you make then taps into the total of operations you can perform free of charge in any given month. If you signed up for our unlimited plan, then you can perform as many direct debit payments as you want, without your fees going through the roof—unlike what happens when you're charged on a transaction by transaction basis. And, since we do not collect any percentage fee on your direct debit payments, what you get is the same as what you collect on your client's account.
Automate your payment collection process
Our direct debit payment service is designed to work at scale. Whether you're looking to add 2 SEPA mandates to your account, or 102, we get you covered. And the same goes for your direct debit payments orders: whether you need to perform 3 payment collections, or 153 of them by importing an Excel file, you'll be fine and you won't need to call your banker.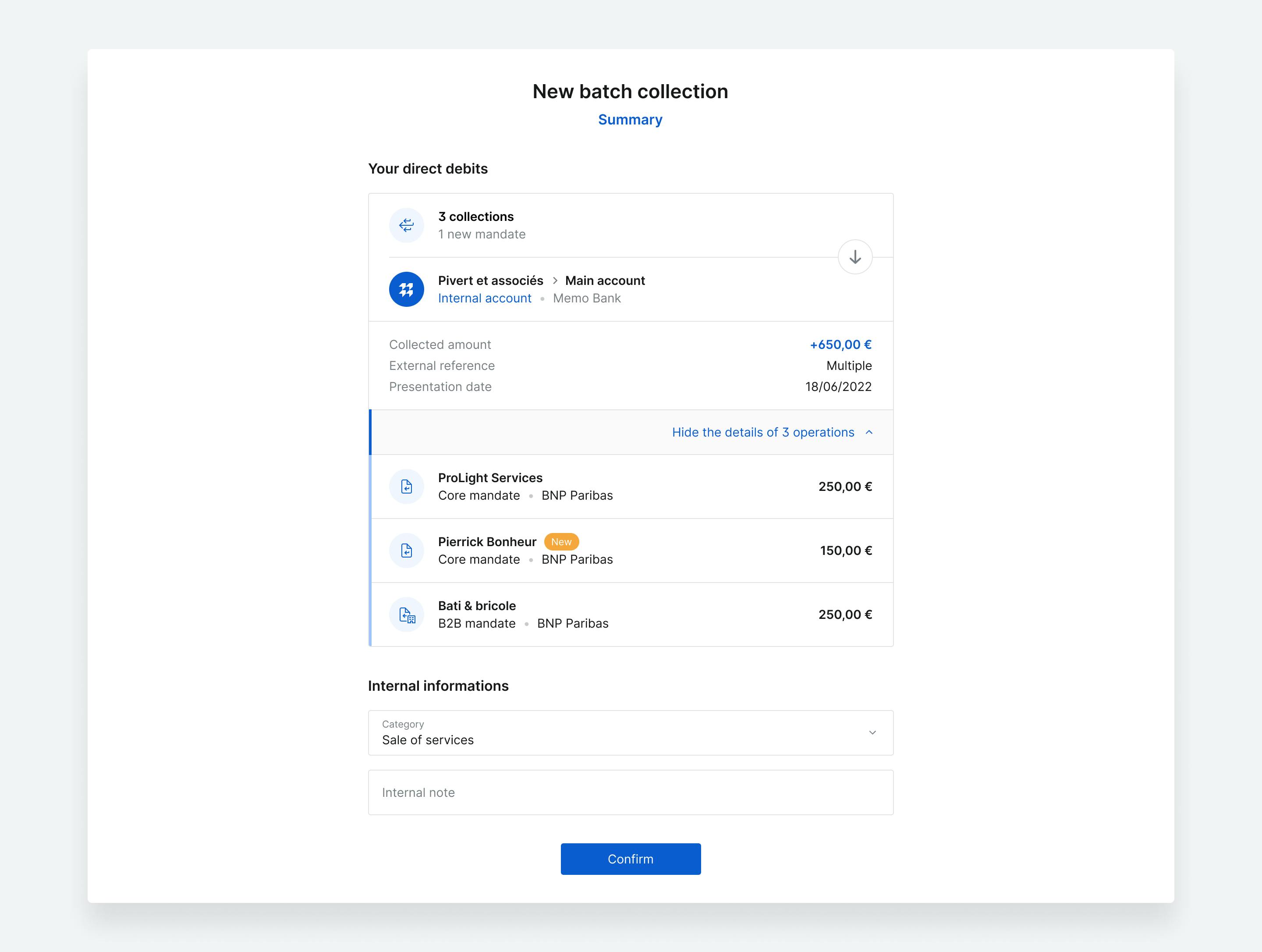 In addition to saving time on your side, you'll also be able to help your clients move faster. How is that even possible? Well, if you add a contract reference to the SEPA mandats of your clients, we'll pass your reference on to your clients every time you collect money from their account. By doing so, your clients will be able to connect the dots between any given debits and the mandates they granted you. And since we're taking care of the direct debits on your customer's account, your client will know that you've collected your payment—unlike fintech solutions that don't always provide easy to understand transactional details.
Getting started
To learn more about our payment collection feature and see if you'll be able to use it, just call your Memo Bank banker. If your company is allowed to collect money through direct debit, we'll need your SEPA identification number, which a bank might already have provided you with. Don't worry, if you don't have a SEPA id yet, we can ask the Banque de France to create one for you.
As always, we hope that our new direct debit payment feature will help your company . If you've got any questions about our latest feature, send us an e-mail or a tweet (@memobank).
Our Visa corporate cards with deferred debit are available.
Read post
Memo Bank clients can wire up to 100,000€ in 10 seconds, 24/7.
Read post