News
Memo Bank is a new independent bank for SMEs. You're reading our latest news.
Written by Brice Boulesteix
On
Bonjour Memo Bank
We are now a real bank and have a new name: Memo Bank. Starting this fall, we will be offering a limited number of early access accounts and plan on greatly increasing availability by the end of year.
We are very pleased, (seriously, you have no idea how pleased) to announce that:
we have been given the seal of approval from the French banking authorities (ACPR) and the European Central Bank (ECB) to be a fully-fledged bank;

we have changed our name to Memo Bank (RIP Margo);

we have raised an additional €20 million;

we are now accepting requests to join our waiting list.
A new bank
A few weeks ago, we got two pieces of really good news. The French banking authorities (ACPR), which oversee all of the banks in France, gave their seal of approval to our banking license application making us a fully accredited bank. At the same time, the European Central Bank (ECB), which oversees banks at the European level, also gave us their thumbs up and now recognizes us as a bank, too. The discussions we had with both of these governing bodies went really well, and we truly appreciate the confidence they have placed in us. We are the first independent bank to emerge in France in fifty years, and we are fully aware of the responsibility inherent in such a distinction.
A full banking license gives a financial institution permission to issue credit. This means we will be able to grant loans to our clients. In addition to financing possibilities, we will offer current accounts to hold deposits and facilitate wire transfer payments. We want to help businesses manage their cash flow efficiently, both in terms of how they make and receive payments, as well as how they finance their projects. Our bankers are at the ready to share their expertise and support our clients in their growth and digital transformation. We aspire to be the bank of choice for the the almost 150,000 SMEs in France (In case you were curious, there were 138,700 SMEs in France in 2017 according to the French office of national statistics.)
A new name and logo
If you've been keeping tabs on us for a while, you may have known us as Margo. We chose Margo as a code name while we worked on our banking license application. Now that we are a bank, a new bank, we wanted a new name. So, we are now Memo Bank. While we were at it, we changed our logo, too.

A new round of funding
To finance this next stage of our development, we just finalized a €20 million funding round with institutional investors and experienced entrepreneurs. We are fortunate to have the support of Bpifrance Investissement, BlackFin Capital Partners (created by the founders of the online brokerage firm Fortuneo), and Daphni (who lead our previous funding round). A number of successful entrepreneurs also participated in this latest round. Remember, Memo Bank is not only a bank for entrepreneurs, it's a bank founded and financed by entrepreneurs.
Our offering
From this fall, we will be offering the following to companies:
a modern, streamlined, collaborative current account making it possible for several people to manage financial operations seamlessly and securely;
financing for tangible and intangible assets at competitive rates;
experienced bankers on hand for those times when even the best website simply isn't enough.
We are testing our services in-house and already agree that some features are essential, like being able to open a business account without needing a printer, having an unlimited transaction history, and being able to grant multi-user access with distinct IDs and with clear levels of responsibility. Our site was designed with modern technology and habits in mind, so it works just as well on a desktop as it does on a mobile device. Our clients can work from anywhere, so our site should, too.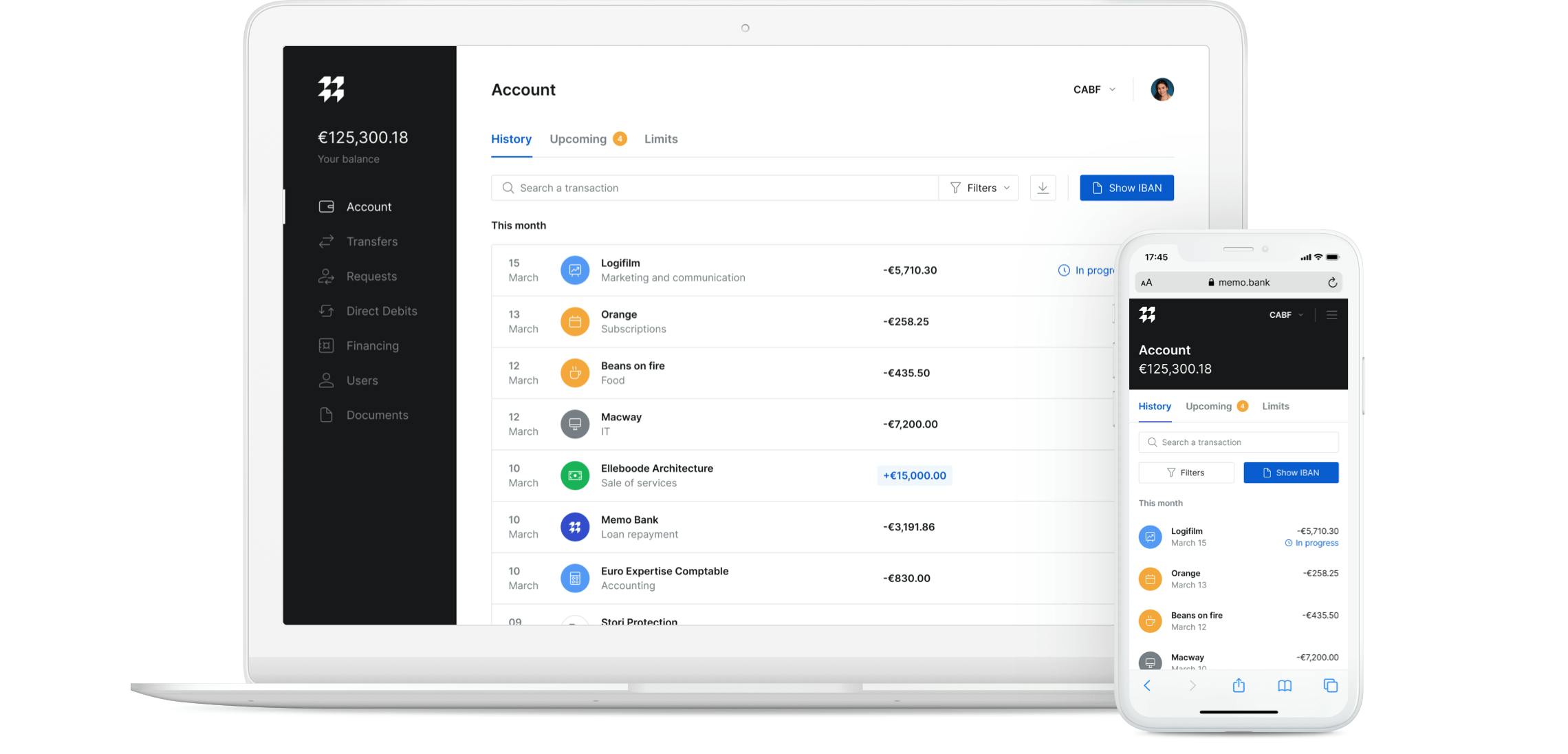 Early access
As of now, we have a banking license, enough capital to make loans to our clients, reliable online services, and bankers at the ready to meet our future clients—while respecting guidelines about maintaining distance, of course. We still need to integrate our technology with a few key partners and put a few finishing touches on our online platform before we can get started.
We plan to grant early access to select clients this fall before rolling out our services more widely by the end of the year. Expressions of interest for our early access program are currently being accepted and more information will be available to interested decision-makers soon.
Looking back and looking ahead
To create Memo Bank, a bank not only authorized but operationally able to issue credit to our clients, we had to build our technical infrastructure from the ground up, put together a convincing banking license application and recruit a stellar team. We have learned a ton since we first started exploring this project at the end of 2016. We hope to tell you more about our journey in the coming months, but right now, we are focusing on getting ready for our first clients.
Merci
We want to thank everyone for your patience. We have worked really hard to create this new independent bank for businesses and are incredibly happy to have the seal of approval from the authorities. We can't wait for you to finally start using what we've been working on and we're looking forward to your feedback!
Get a sneak preview of our latest news…
Why we decided to launch a new independent bank for SMEs and how we did it from scratch.
Read post