News
Memo Bank is a new independent bank for SMEs. You're reading our latest news.
Written by Jean-Daniel Guyot
On
Introducing Memo Bank's payment cards. And much more.
It's a big day for our team. Payment cards have been our most requested feature, by far. We knew we had to ship them at some point. But we couldn't just ship them and call it a day… Of course not. So we went above and beyond that…
Today, we're pleased to introduce three new products:
The first one is a Visa corporate payment card (obviously).

The second is a new expense tracking service with real time updates.

The third is a Buy now, Pay later deferred debit feature.
So, three new products, right? Yes, three new products:
A Visa corporate payment card.

An expense tracking system for the whole company.

A Buy now, Pay later feature.
Think about it:
A payment card.

A expense tracking service.

Buy now, pay later.
Again:
A payment card.

An expense tracking service.

Buy now, pay later.
Are you getting it?
No, we're not talking about three separate products here. That's right. We're talking about a single product, fully integrated into Memo Bank's ecosystem. But let's stop here our Steve-jobs-launching-the-iPhone impersonation. Today, we're introducing a little revolution to the world of corporate expense management.
Corporate expense management is terrible (and you know it)
Everything that was simple and integrated back in the golden days of banking is now slow as hell and scattered all over the place. I'm sure you've already heard some version of the conversation that follows.
"—So… You'd like to manage your corporate spending? Well, let me enroll you into the "MyBusiness MultiPlus" business card program. Every month or so, we'll mail you a letter with the details of the purchases made using your MyBusiness MultiPlus business card. If you need to change the settings of your business card, just log into your "MultiPlus" web portal. Oh, and don't you worry about the design of our web portal. It might look old but it's as fresh as it was back in the 90s, when we introduced it. And no, sorry, your regular banking credentials won't work with our MultiPlus portal. You'll have to create a dedicated MultiPlus account.
—So… Now you want multiple business cards for your coworkers? Sure! Let me enroll you into the "MyBusiness MultiPlus Plus" business cards program. Please fill this Excel file out (also available as a PDF for your convenience), then print it and send it back to us. Your colleagues will then get four different letters from us: their business card, the PIN of their card, their MultiPlus web portal credentials, and their MultiPlus password—they'll need to change it right away, though.
—Oh, one last thing: confirmation text messages will get sent to your own mobile. All of them, not just the ones linked to your own card. Meaning you'll have to manually transfer the text message you receive to the person who needs it, every single time. Sorry about that. You'll get used to it, probably…"
(If you think this is a really long parody, then trust your instincts. We might try standup comedy sometimes, though. So keep an eye out.)
All that to say: expense management systems mostly suck, because they're built from the point of view of a bank, not from the point of view of a business owner. It was about time for a change…
Introducing a simpler corporate card experience
As you may already know, speeding your business up is our obsession. We believe that every minute counts, especially for small and medium businesses.
To help you save time, here's what we're doing: we provide you with fast banking services, we get out of the way to let you do your banking on your own, and we offer the support of a seasoned banker when you need it.
Now, building on these three pillars, we're adding Visa corporate payment cards (with deferred debit) to our offer. And we're also adding a new real time expense management on top of that for you and your team. Our goal is to let you delegate some of your corporate purchases to some of your coworkers, while letting you decide who gets to spend what and where.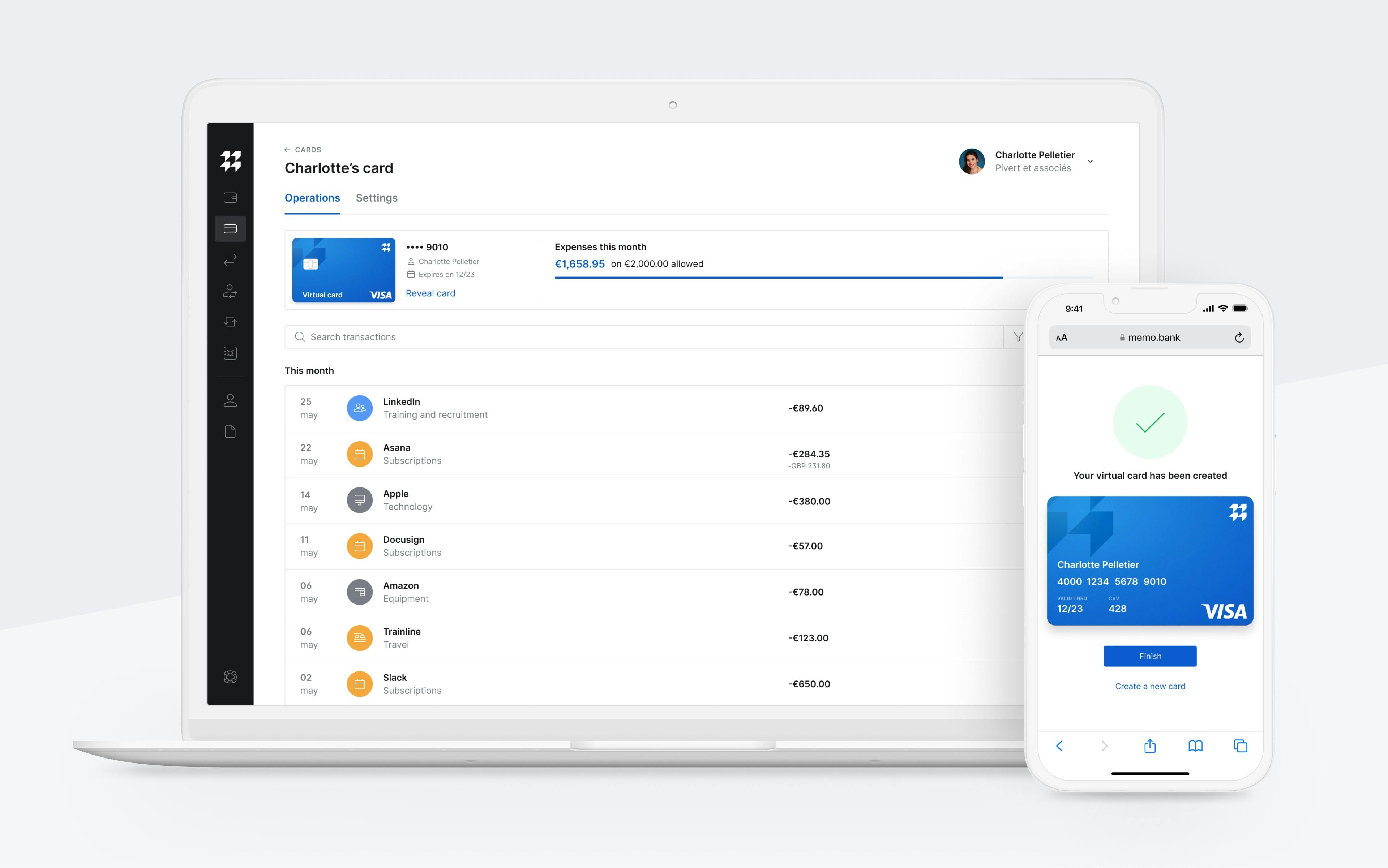 Instead of paying for yet another external banking service, Memo Bank's payment cards let you:
Create virtual or physical payment cards for your employees. And yes, purchase confirmation messages will find their way to your employees' phones, not yours. No text transfer required.

Link your Memo Bank cards to your Memo Bank accounts. That way, each of your team can use its own set of payment cards, in addition to their own current account.

Set a payment limit for each and every payment card you create.

Track your card purchases in real time. No need to wait until the end of the month to see how much you're spending.

Attach invoices or VAT rates to your Memo Bank account after each purchase made using a Memo Bank payment card. Whatever helps your accountant.

Enjoy 30 days of deferred debit on all your card purchases. Your card purchases are debited from your account on the first day of the following month. No surprise.
Think speed, autonomy, and support. We'll be there by your side to help you manage and simplify your corporate spending.
Buy now. Pay later.
Being a modern bank is nice. It allows us to offer you bundled services which rely on both our cutting-edge technology and our bona fide banking license.
Consider fintech services now. It's the other way around. All their expense management solutions rely on a "top up first, buy later" system, because they can't offer deferred debit features—for lack of a banking license. With Memo Bank corporate cards, you don't need to guess how much you'll spend by card this month. You don't even have to top your card account up at the beginning of the month. You'll enjoy 30 days of free cash flow, on the house. You're welcome.
If you're already familiar with deferred debit corporate cards, then you'll finally have access to a real time expense tracking feature. That way, you'll be able to keep a closer look on your corporate spendings. Those little details will make a huge difference in the way you manage your expenses.
A word from our clients
A few of our wonderful clients have accepted to test the early versions of our payment cards. Here's what they had to say about our new services:
"Well done. The cards work just like the rest of your product. They're easy to use. Congrats to the team who built those features."
"The features have been executed to perfection. Even if your bank account won't get debited until next month, you still can see your card purchases in real time. This is rad. Hats down to the team."
"Before Memo Bank, we had to send each other screenshots of our payment cards. We also had to log all our card purchases into an Excel file, for our accountant to keep track of our corporate spending. You have no idea how much time we're saving now. And the ability to use deferred debit even with virtual cards? This is pure gold."
How to get started
For you to get started with our payment cards, there's no Excel file to fill out, no PDF document to print. Our virtual cards are available today, starting now. You can use them to pay online, in more than 130 currencies. If you're already a Memo Bank client, your banker will reach out to you soon and get you started right away.
As for our physical cards, they'll be available very soon. You'll be able to use them in more than 200 countries. We're testing the latest versions as we speak and you'll be ready to order them in a few weeks.
We can't wait to hear your feedback.
Update (March 31, 2022). Our physical payment cards are now available. Order yours now, right from your Memo Bank workspace. You'll receive it a few days later.
Why we decided to launch a new independent bank for SMEs and how we did it from scratch.
Read post
We are now a bona fide bank and have a new name: Memo Bank. Starting this fall, we will be offering a limited number of early access accounts and plan on greatly increasing availability by the end of year.
Read post